Sasquatch Valley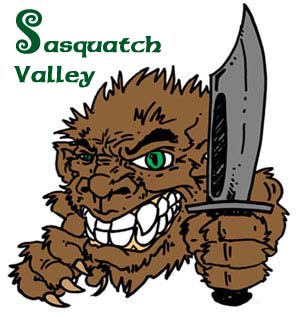 Home | Privacy Policy | Payment Types Accepted | FAQ | Contact | Auctions | Shipping
---
Click here for the Knife Materials FAQ.
---
Can I add to, change items or drop items from my order once I've placed and paid for it?
No. Once orders post to our warehouse they cannot be amended. Please take the time to decide what you really want before ordering. Sasquatch Valley discourages impulse buying.
I placed an order with you and have made payment, I've yet to get an email confirming my order, should I be concerned?
No. We do not send out spam or autoresponses of any kind. Since a real person sends out all emails we only send one out if there is a problem with the order. When payment is made, this page posts your order automatically to our warehouse.
It's been a few days and my order has not arrived, can I get a tracking number?
We send everything out with the Post Office, the post office will not look for packages until 30 days have elapsed from the mailing. While packages over $50 have insurance numbers and international packages have a customs tag number, no packages are sent with a tracking number. If it has been 30 days then we are able to look for you package and will help because it is obviously lost and the post office will look after we file the appropriate forms. If it is less than 30 days, please be patient, sometimes there are delays in the mail.
Do you beat competitors prices?
We beat prices on web, catalog or retail store competitors. Our prices should already be the lowest around but if not please email us using the contact link above.
How soon do your items ship?
Our in stock items ship either same business day or next business day--this does not apply to special ordered items. Occasionally during periods of unexpected high volume we are temporarily out of items and it can take up to 2 weeks to ship. In this event we will contact you. If item will take longer than 30 days we will refund your money and tell you when it gets back in to see if you still want it.
What do you mean by special order?
A special order item is simply one that we do not stock but can get. From SOG it usually takes an extra week, from the other companies it takes an extra 2 weeks. I usually only stock items if I sell one or more per month. On many other web sites everything is, what I would call, special order, only they don't tell you up front. While Special Ordered Items typically arrive within 30 days unlike items I stock, special ordered items are not guaranteed to be there in 30 days.
Are you a legitimate business?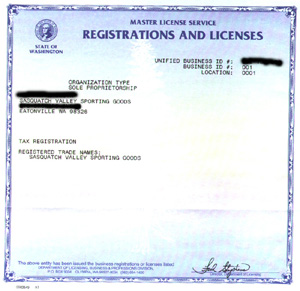 We are a legitimate business licensed by the State of Washington, in the USA. You may contact us outside of the web at:
Sasquatch Valley
PO Box 195
Eatonville, WA 98328
Do you offer refunds?
No, we do not offer refunds, except in very unusual circumstances (such as item was misdescribed on the page). Make sure you want something before you buy it. If you have any questions or doubts please contact me using the above link so we can get everything sorted before ordering.
What if there is a problem with the item?
All items are covered under the manufacturers warranty, and would be dealt with by the manufacturer. I can assist you in contacting them if necessary. All the items I sell that are from a company are all guaranteed from the company. Most companies would rather deal with you the end user instead of me. Guarantees vary from company to company but for most it is a lifetime warranty, if you want more details contact me using the link at the top of the page. These guarantees are not money back guarantees but rather replacement or repair guarantees. They are all through the companies but I will help you work with them. So if there is a problem please email me so I can give you their address and customer support line. This is pretty standard with most independant sporting goods stores (ie, stores that do not sell only stuff from their own factory or confederation of factories), but I just wanted to let you know up front.
If an item is just from some knife maker it usually is NOT guaranteed so assume it is not unless the item description states it. Usually this is just some guy making a knife in his garage or shop and doesn't have the rescources to warranty the items.
Basically All Factory (Company) Knives come with a Warranty and most Custom (Individual) Knife Makers do not.
Is your business environmentally friendly?
I try and tread as lightly on the Earth as possible as long as the business can still fuction--form I will cut corners on but not function. For small items I ship in bubble envelopes made of recycled materials. Larger items or multiple item shipments get resued boxes, cut to size if necessary. I use all my boxes that come to me from wholesale shipments and when I need more I go around to local businesses and collect boxes that they would have otherwise thrown away. I shred all my old catalogs, junk mail and other office waste to use as packing material. I also use those organic packing foam pellets that are made of puffed corn starch that disolves in water into organic nutrients that are digestable by microscopic organisms. I haven't found any reasonably priced sticky labels that work well so I just write straight on the cardboard with a permanent marker. Instead of using packing tape, I usually use duct tape even though it is more expensive because duct tape holds better than shipping tape especially when the package is going halfway around the world. I don't skimp on the tape or ink because I consider these impotrant functions. Your package is guaranteed to get there intact but won't win any awards for good looks. Most items come in shipping proof boxes already from the factory and I keep products in these but of course I have no control over whether the factory's box is reclycled.
How discreet will my package look? In the US, there is just the PO Box address as the return address so there is no indication of what might be inside. But for International addresses, they make me put my business name in addition to my address and a customs form.
---
If you have any other questions please email us using the contact link at the top of this page.
---
---